Uncategorized
How to make your student accommodation feel like a home away from home
Have you heard of the famous saying, home is where the heart is ?
If so, you'll know that home is a word associated with a strong sense of belonging and family feeling.
When you embark on a study adventure abroad, it might be a sudden shock to the system as you shift from familiar territories of home to foreign lands of the unknown.
As Study International has explained before, the sudden rush of homesickness and culture shock are two main symptoms of stress for most international students.
But before you start to worry about how much you might miss home, it's worth taking some time out to prepare for your new living arrangement.
Carry along keepsakes
To transform your university room into a capsule of comfort, you may want to take a few keepsakes with you in your suitcase.
These personal souvenirs from home are very handy to have in times of anxiety and doubt. They'll trigger cherished childhood memories and help you realign your mind.
If you're wondering what to take as a keepsake, the options are limitless!
You may want to keep a loved one's perfume safely by your side, so when you spray it stirs a comforting emotion. You might take a valued object from your past you can't let go of, or even a nice soft bed sheet that carries the scent of home.
Whatever your keepsakes may be, there's no harm in bringing them along for the ride!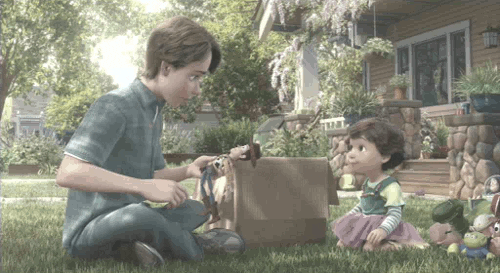 Keepsakes are partners of the past. Source: Giphy
Deck out your dorm
Ever wanted to redesign your room at home but never had the freedom to do so? Well, now you can!
Remember the two Texas State students who renovated their dorm room with a $2,400 makeover last year? They showed the world that there are no limits to how far your imagination can take you.
But not everyone has a small fortune to spend, and a lot can be achieved with just a lick of paint and a fresh duvet cover! If you're like most penny-stretching students, remember that you really don't have to spend a lot to keep things cool and cosy.
With respect to accommodation rules and restrictions, it's worth researching into how you can style your room feel into a vibrant study haven without excessive expenditure.
Unpacked & decorated my uni room 😁! pic.twitter.com/CGKnZVAyBs

— izzy (@izzy_latimer) September 14, 2017

Preserve family traditions
Depending on the layout of your student accommodation and how much space you have for friendly gatherings, you may want to maintain family traditions by hosting group dinners or cinema nights on the sofa.
Just because you're away from your home network doesn't mean you can't extend that network out to new housemates and colleagues.
One effective way to combat homesickness and FOMO (Fear Of Missing Out) is to create new memories to take back with you. By sharing your traditions with others, you're also making yourself open to finding new friends.
Plus, you never know – your next door neighbour may be feeling just as lonely as you, and they might really appreciate an invite over to test out your home-cooked cuisine!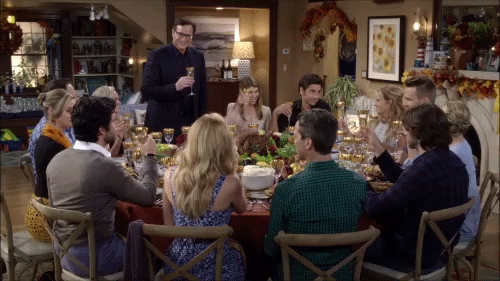 Cheers to lifelong friendships! Source: Giphy
Create online connections
Luckily, we live in an era that's connected by the global touch of technology. All you need to do is schedule regular video chats with your family via Skype, FaceTime,  or other online resources and you'll feel close to home, no matter how far away you are.
Before taking your trip overseas, make sure your loved ones are trained in the art of instant video messaging and reassure them that they can contact you at any point through their phone or laptop cameras.
These meetings will also make you feel like you're at home again, even though you're sitting in your comfy student room in a completely different country!
After all, home is where the heart is. And if you follow these simple tips it doesn't matter where you end up – the feeling of home is always with you.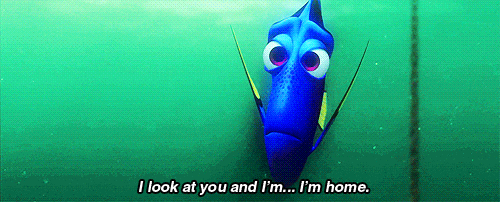 Just keep swimming and smiling Source: Giphy
Liked this? Then you'll love…
Pros and Cons of 'Homestay' student accommodation
International students are cooked meals from home at this US Uni