Uncategorized
Australia: Private school fees rise above the rate of inflation
Private school fees in Australia increased by an average of 3.1 percent in 2019, surpassing the inflation rate of 1.8 percent and the country's average wage growth rate of 2.2 percent, a new study has found.
The vast majority (84 percent) of private schools in the country increased their fees, with only nine percent reducing costs or keeping them the same, according to the report by financial lender Edstart.
"NSW and Victoria continued to lead the way with the highest average school fees and smallest
percentage of schools where fees remained the same or were reduced," said the report.
"Western Australia saw the highest percentage of schools that did not raise their fees in 2019 and the lowest average increase in fees at merely 1.58 percent. On the other hand, ACT showed the highest fee increase of 5.07 percent," continued the report.
One in three Australian families send their children to private schools, paying several times more than the cost of government education. In cities like Sydney, independent education can cost up to 50 percent above the national average of AU$298,689, not including the thousands more incurred in additional costs for uniforms, extra-curricular activities, camps and excursions.
EdStart's survey of 1600 families across the nation found that private schools in NSW and Victoria had the top 10 highest fees reported:
School
Year 12 fees – 2019 (AU$)
Annual change
Tuition
Extras
Total
Geelong Grammar School (Corio, VIC)
$41,544
–
$41,544
3.41%
SCEGGS Darlinghurst (Darlinghurst, NSW)
$38,214
$750
$38,964
2.46%
Mount Scopus Memorial College (Burwood, VIC)
$37,880
$510
$38,390
2.44%
Cranbrook School (Bellevue Hill, NSW)
$38,100
–
$38,100
2.34%
St Catherine's School (Toorak, VIC)
$35,080
$2,500
$37,580
2.79%
Sydney Grammar School (Darlinghurst, NSW)
$36,615
–
$36,615
3.90%
St Catherine's School (Waverley, NSW)
$34,896
$1,382
$36,278
3.36%
Melbourne Girls' Grammar School (South Yarra, VIC)
$36,276
–
$36,276
2.80%
The King David School (Armadale, VIC)
$32,152
$4,100
$36,252
3.80%
Sydney's Macquarie Grammar School reported the highest increase in fees nationwide, at AU$19,530, up 10.84 percent from the year before. The table below lists the ten largest increase in private school fees in Australia:
School
Year 12 fees – 2019 (AU$)
Annual change
Tuition
Extras
Total
Macquarie Grammar School (Sydney, NSW)
$17,510
$2,020
$19,530
+10.84%
Marist College Canberra (Pearce, ACT)
$9,223
$1,850
$11,073
+7.07%
Emmaus College (Vermont South, VIC)
$6,800
$1,070
$7,870
+6.93%
Woodleigh School (Baxter, VIC)
$26,345
$1,911
$28,256
+6.89%
Loreto Kirribilli (Kirribilli, NSW)
$22,260
–
$22,260
+6.53%
Orana Steiner School (Weston, ACT)
$9,310
$2,085
$11,395
+6.35%
St John Fisher College (Bracken Ridge, QLD)
$2,214
$2,379
$4,593
+6.25%
Stuartholme School (Toowong, QLD)
$19,176
–
$19,176
+6.04%
St Augustine's College (Brookvale, NSW)
$11,202
$4,957
$16,159
+6.00%
The largest fee decrease was reported at St Paul's College (Gilles Plains, SA), Downlands Sacred Heart College (Toowoomba, QLD) and Temple Christian College (Mile End, SA), which saw decreases of 5.57 percent, 0.87 percent and 0.32 percent respectively.
'Certainly strain the family budget'
Australian families spend an average of 35 percent of their net family income on private school fees, with the figure closer to 40 percent in certain states such as Victoria and South Australia.
"The rising cost of school fees across the country can certainly strain the family budget," notes the report.
Edstart Chief Executive, Jack Stevens, said parents had always felt school fees were a burden but a decade of fee increases running above inflation had them "up in arms".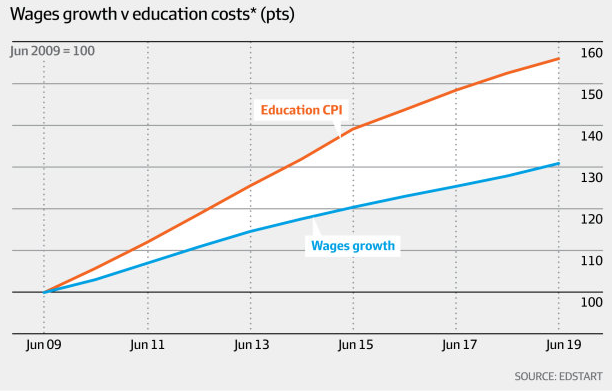 Speaking to the Sydney Morning Herald, Michelle Green, Chief Executive of Independent Schools Victoria, said many parents make significant financial sacrifices to send their children to an independent school, forgoing spending in other areas.
"Parents on low and middle incomes, who make up the largest proportion of families in independent schools, are particularly affected by broader economic conditions, including low wage growth and high housing prices," said Green.
The costs of private schools appear to be taking a toll on Australian families, enough to reverse the decades-long trend of enrolment growth in private schools.
Since 1970, private school enrolments in Australia have increased, while the proportion of Australian school children in government schools fell from 78.1 percent to 65.2 percent. In the last two years, however, public schools recorded their first consecutive year-on-year rise in the past five decades.
"While the structural shift towards non-government education has been evident over the last three decades, the trend appears to have halted," one ANZ report said.
Mid-tier private schools, which charge between AU$10,000 and AU$20,000 a year for tuition, are seeing the most significant drop in enrolments, compared to lower-fee schools that charge less than AU$10,000 a year, and top-tier schools that charge more than AU$20,000 a year.
Liked this? Then you'll love…
The pros and cons of private school education
In the world's most expensive city, private schools charge up to US$33,721 per year