Uncategorized
America's oldest Catholic university okays LGBTQ+ dorm
In a major step forward for the LGBTQ+ in the United States, the country's oldest Catholic and Jesuit University has agreed to provide a safe living space specifically for students of the community.
Georgetown University reportedly gave the green light for the project following a push by students.
The dorm, called "Crossroads: Gender and Sexuality", is due to open for the beginning of the 2018-19 academic year.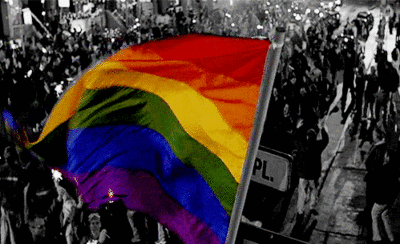 Source: GIPHY.
This victory was a "miracle", Georgetown senior Grace Smith said on Facebook.
The fight did not begin with immediate success. Last year, students pitched the idea for a "Living Learning Community" for LGBTQ+ people but it was declined.
Smith worked tirelessly to ensure LGBTQ+ students had a safe space at the Catholic university. She is immensely pleased with the approval this time around.
"Students will now begin to have a unique residential space dedicated to exploring and understanding themselves and others in relation to gender and sexuality. Congratulations to everyone who made this dream a reality."
Student Affairs Vice-President Todd Olson told student newspaper The Hoya: "Our Catholic and Jesuit values call on us to engage with 'respect, compassion, and sensitivity' with our LGBTQ community.
"It is in keeping with our Catholic and Jesuit values to provide a language, perspective, and sense of inclusion for deepening our sense of cura personalis." Cura personalis is Latin for "care for the entire person".
Georgetown University, once one of America's finest Jesuit institutions of higher ed, is now offering a Living Learning Community exclusively for LGBTQ+ identified students. Those living out a Biblical understanding of identity and sexuality need not apply https://t.co/nTlcsMVQSG

— Carmen LaBerge (@carmenlaberge) January 10, 2018
However, the decision has not escaped critique.
Instinct Magazine reported the Catholic blog Church Militant accusing the university of disrespecting the Christian faith.
The Jesuits "are well known for their dissent from Church teaching on just about everything while claiming to be Catholic," the post reads.
"Father James Martin, one of the most prominent Jesuits in the United States, has been an ardent advocate of sodomy and so-called same-sex marriage, telling homosexuals that God 'made them that way.'"
Many have also taken to Twitter to express their disapproval of the decision, with one account even calling it a "moral collapse."
Moral collapse at Georgetown https://t.co/HeEq2lJNiz Maureen Mullarkey, Federalist

— The Catholic Thing (@catholicthing) January 10, 2018
Bad News! Georgetown University (an alleged Catholic institution) has set aside space for living quarters for the LGBTQ for the 2018-2019 term, and one does wonder if the Catechism of the Catholic Church is still allowed.

— Louis H. Milotte, Jr (@milotte_) January 9, 2018
I'm sure donations have dropped considerably. Georgetown University isn't what it used to be. https://t.co/n3w4aok3p7

— Norrie Frese (@FreseNorrie) January 9, 2018
However, it was not just followed by negativity. Students from all over the world recognize what a success this is for the LGBTQ+ community.
Andrew Shires, a gay recent graduate and former Catholic school student from the United Kingdom, told Study International "it will give students a network among themselves."
"I think the problem with Catholic education for LGBT people comes with the silence about it."
"But if they're opening an LGBT dorm it sounds hopefully like that won't be much of an issue."
The Office of Residential Living's website reported the dorm will be a residential community "where like-minded individuals can share and deepen their passions through social, educational, and reflective activities."
The location and details on an exact opening date are still yet to be confirmed.
Liked this? Then you'll love…
Australian students call for LGBTQ+ sex education
This Catholic school has been ridiculed online for its not-so-saintly statue